A new way to home improvement.

Homeowners achieve an average ROI of 269% with an additional profit of $50k.
🏠 No Project Size Min or Max
🏠 Fixed, All-inclusive Pricing
🏠 Free, Same-Day Estimate
The Only Turnkey Solution In Market:
As the licensed and insured General Contractor on every project, our partner will get you to closing quickly and with peace-of-mind, taking care of everything from proposal to finished product
Modern, Simple, & Transparent
Experienced transparency like never before with real-time updates at every stage of the project, saving you countless hours and hassles
Pay When You Sell
From fast fix-ups to full renovation, homeowners pay nothing upfront, giving you the ability to make necessary home improvements faster and without delay. NO hidden fees, interest charges or credit checks.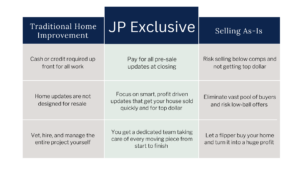 FAQs
How does it work?
For sellers with enough equity to cover the project cost, our partner defers 100% of the project cost until closing, with no fees, interest charges, or credit checks. Our partner completes the project and get paid when the home is sold.
What types of projects does our partner take on?
Our Partner can take on any type or size of pre-sale improvements, with no project minimum or maximum. Having completed thousands of projects ranging from under $1000 to over $800,000, our partner can take on anything from simple repairs to whole home makeovers. They'll help with all profit-driven updates including exterior curb appeal updates, bathrooms, kitchens, painting, flooring, water or mold remediation, landscaping, roofs or inspection report repairs – just to name a few!
What Happens if the house doesn't sell?
Every home will eventually sell, and on average, updated homes sell 50% quicker than the national average. In the unlikely event that the home stays listed and unsold for more than a year from our project start, the homeowners can either pay our partner for the amount due or pay a small monthly admin fee to extend the payment deadline.
Is Our partner more expensive than the average contractor?
Our partner pricing is very competitive with what a licensed and insured contractor or home improvement company would charge in your area. Since they use technology to price their work, pricing is consistent across projects, without fluctuations and inconsistencies typically seen in the home improvement industry. In addition, our partner's pricing is inclusive of everything from labor material to permitting and project management.
Contact Form
We would love to hear from you! Please fill out this form and we will get in touch with you shortly.